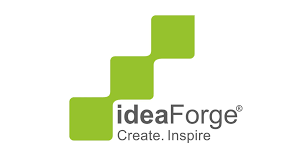 Idea Forge manufactures Unmanned Aircraft Vehicles for Mapping, Security & Surveillance. These drones are capable of a wide range of mining area planning, and mapping applications. ideaForge UAVs help construction and real estate boost their operations. They also assist defense forces in conducting Intelligence, Surveillance, and Reconnaissance (ISR) operations along borders.
BlueFire Live!: It enables secure and live streaming of the UAV video feed and also allows payload control from a remote command location.
BlueFire Touch: BlueFire Touch is a Ground Control Software (GCS). It is built to plan and command both mapping and surveillance missions with the ability to pre-plan missions based on operational area and target locations via waypoint-based navigation.
The company is a market leader in the Indian Unmanned Aircraft Systems ("UAS") market with a market share of approximately 50% in fiscal 2022. It has the largest operational deployment of indigenous UAVs across India, with an idea Forge-manufactured drone taking off every five minutes for surveillance and mapping on average.
The company has been ranked 7th globally in the dual-use category (civil and defense) drone manufacturers as per the report published by Drone Industry Insights in December 2022.
| | |
| --- | --- |
| Open Date: | Jun 26 2023 |
| Close Date: | Jun 30 2023 |
| Total Shares: | 8437500 |
| Face Value: | ₹ 10 Per Equity Share |
| Issue Type: | Book Building |
| Issue Size: | 567 Cr. |
| Lot Size: | 22 Shares |
| Issue Price: | ₹ 638 to ₹672 Per Equity Share |
| Listing At: | NSE,BSE |
| Listing Date: | Jul 07 2023 |
| | | | |
| --- | --- | --- | --- |
| Particular (In Crore) | Mar-21 | Mar-22 | Mar-23 |
| Equity Share Capital | 0.089 | 0.089 | 21.337 |
| Reserves | 60 | 163 | 303 |
| Borrowings | 51 | 6 | 87 |
| Trade Payables | 5 | 7 | 14 |
| Other Liabilities | 9 | 46 | 63 |
| Total Liabilities | 64 | 59 | 163 |
| Net Block | 1 | 2 | 8 |
| Capital Work in Progress | 0 | 0 | 3 |
| Investments | 0 | 0 | 1 |
| Other Assets | 41 | 76 | 92 |
| Total NC Assets | 42 | 79 | 104 |
| Receivables | 24 | 20 | 58 |
| Inventory | 23 | 49 | 105 |
| Cash & Bank | 5 | 30 | 5 |
| Other Assets | 29 | 44 | 217 |
| Face value | 10 | 10 | 10 |
| | | | |
| --- | --- | --- | --- |
| Particular (In Crore) | Mar-21 | Mar-22 | Mar-23 |
| Sales | 35 | 159 | 186 |
| Raw Material Cost | 22 | 51 | 96 |
| Change in Inventory | -4 | -10 | -37 |
| Employee Cost | 19 | 27 | 51 |
| Other Expenses | 8 | 18 | 29 |
| Other Income | 2 | 2 | 10 |
| EBITDA | -9 | 75 | 57 |
| EBITDA Margin | -26.65% | 47.12% | 30.91% |
| Depreciation | 4 | 7 | 12 |
| Interest | 2 | 18 | 5 |
| Profit before tax | -15 | 50 | 41 |
| Tax | 0.12 | 6 | 9 |
| Net profit | -15 | 44 | 32 |
| | | | |
| --- | --- | --- | --- |
| Particular (In Crore) | Mar-21 | Mar-22 | Mar-23 |
| Cash From Operating Activity | | | |
| Profit From Operation | -5 | 80 | 8 |
| Receivable | -13 | 3 | -38 |
| Inventory | -13 | -25 | -56 |
| Payable | 4 | 3 | 7 |
| Other WC Items | -4 | 14 | -38 |
| Working Capital Changes | -26 | -6 | -125 |
| Direct Taxes | 0.05 | -7 | -6 |
| Net Cash Inflow from Operating Activity | -31 | 67 | -53 |
| Cash from Investing Activity | | | |
| Fixed assets purchased | -9 | -13 | -33 |
| Fixed assets sold | 0 | 0.02 | 0 |
| Investments purchased | -11 | -9 | -9 |
| Dividends received | 0.14 | 0 | 0 |
| Other investing items | 13 | -8 | -107 |
| Net cash inflow from investing activities | -7 | -31 | -149 |
| Cash from Financing Activity | | | |
| Proceeds from shares | 0 | 0 | 103 |
| Proceeds from borrowings | 0 | 15 | 0 |
| Repayment of borrowings | 0 | -15 | 0 |
| Intrest paid fin | -1 | -7 | -4 |
| Other financing items | 44 | -3 | 78 |
| Net Cash Flow | 5 | 25 | -26 |